BED BUGS
– A RISK FACTOR IN CONSTRUCTION
Bed bugs are a growing problem in society and a particular challenge in homes and accommodations that have a high turnover of overnight residents. When constructing or renovating student accommodation and hotels, for example, it can be a good idea to consider the risk of bed bugs. We offer proactive solutions that can be placed behind floor skirting boards and fixed furnishings like headboards and wardrobes.
A high turnover increases the risk 
Some types of buildings are more prone to bed bug infestations. These are properties with a high turnover of residents, such as hotels, hostels, student accommodation and Airbnb homes. With the increase in global travelling, bed bugs get more chances to hitchhike to a new residence where they can cause an infestation. In student dorms, we see bed bugs spreading due to social behaviour, for example sleepovers in friends' rooms.
The cost of treatment
Bringing a pest control company into a home/room/accommodation can be a costly affair depending on the size of the infestation and the number of rooms or flats affected. Sometimes the technician can investigate, diagnose and treat the problem all in one visit. This is not always possible, and you may need repeated treatments. The type of treatment will also have different price tags, for example chemical or heat treatment or active traps. According to HomeAdvisor, on average a studio or 1-bedroom flat can cost between 300 – 900 USD per visit, while heat-treating a 3-4-bedroom property can amount to 800 – 2,500 USD, and for large homes with severe cases it can cost 4,000 USD or more (https://www.homeadvisor.com/cost/environmental-safety/bed-bug-treatment/).
Protect against bed bugs in your properties
In new construction or in connection to a renovation, there is an opportunity to incorporate preventive solutions for bed bugs. As bed bugs prefer darkness and move along skirting boards, this is a good place to kill them. This can be achieved by installing skirting boards with factory assembled Nattaro Safe®. In the long term, this saves both time and money. These skirting boards offer an environmentally friendly proactive measure that discreetly takes care of any bed bugs on the inside of skirting boards. Cleaning or mopping the floor is no problem with these in place.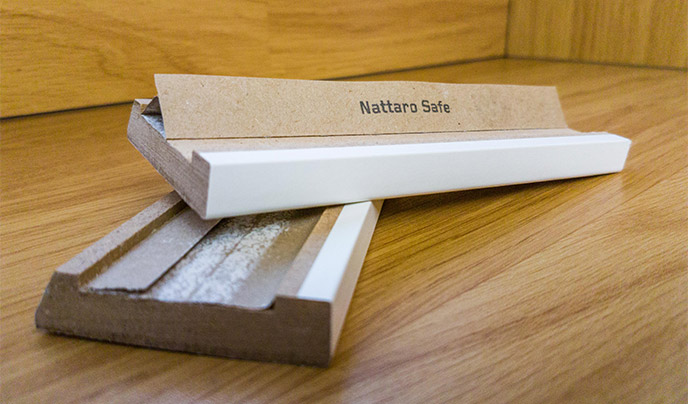 Install long-term preventive solutions
By installing bed bug skirting boards with Nattaro Safe® bed bug tape pre-attached, you get just the right amount of diatomaceous earth (DE) to dry out and kill any bed bug. This tape is invisible from the outside and cannot be cleaned away. Together with partners we have a complete range of skirting boards available. Presently these products are only available in Sweden.