RELATED DOCUMENTS
Nattaro Safe® on Skirting Board
On this page, we list all related documents to Nattaro Safe® bed bug tape for skirting board, which offers both protection and long-lasting treatment of bed bugs. Skirting boards with Nattaro Safe® attached on the inside is a great proactive measure to take against the rapidly rising costs of bed bug treatments. For more information about how it works, visit the page Bed bug skirting board- Nattaro Safe®.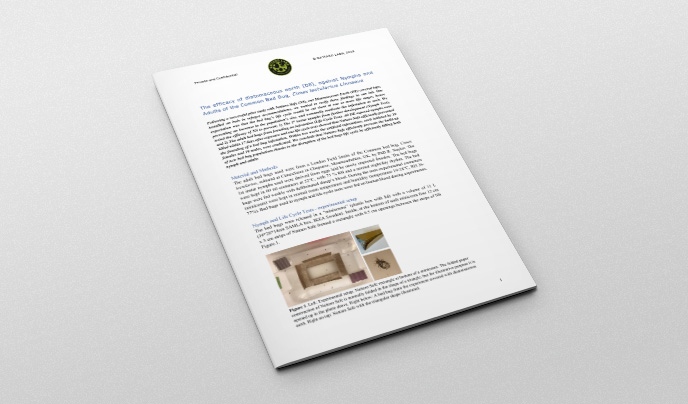 The efficacy of diatomaceous earth (DE), against Nymphs and Adults of the Common Bed Bug, Cimex lectularius Linnaeus
Following a successful pilot study with Nattaro Safe (NS), our Diatomaceous Earth (DE) covered tape, installed on beds in refugee accommodations, we wanted to verify these findings in our lab. Our expectation was that the bed bug's life cycle would be cut short at one or more life stages, hence preventing an increase in the population's size, and eventually eradicating the infestation as such.
Nattaro Safe Field Study
The following is a review of the procedures and conclusions from the Swedish Immigration Board's pilot project to test Nattaro Safe in 15 apartments in the town of Lindesberg, southern Sweden. A total of 59 apartments were included in the pilot, of which 44 formed the control group and where Nattaro Safe was not installed.